Signs of bad memory:
1. Starts Smoking
2. Becomes Moody


The common indicators of faulty memory:
Blue Screens during the install procedure of Windows 2000 or XP.
Random crashes or blue screens during the running of 2000 or XP.
Crashes during memory intensive operations. 3D games, benchmarks, compiling, Photoshop, etc.
Distorted graphics on screen. This can also be related to the video card.
Failure to boot. This can be accompanied by repeated long beeps, which is the accepted BIOS beep code for a memory problem.
Testing Bad Memory Software: Click this to download
Memtest86+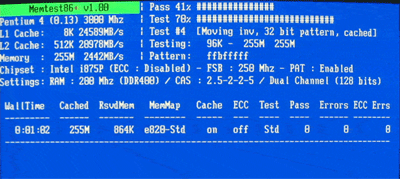 Memtest86+ has basic and advanced testing modes, differing in the time they take and the thoroughness of the testing. The basic mode should be sufficient to indicate any major problems with your memory.
To use Memtest86+ first download either the pre-compiled floppy disk image or the bootable ISO CD image.
Unzip the downloaded file and create your bootable disk by either running the 'install' program (for the floppy disk image) or creating a CD from the ISO image by using a program like Nero or Easy CD Creator.
Reboot your computer with the floppy or CD in the drive to start the Memtest86+ program. It will automatically begin the basic test. Note the system information displayed to the left of the screen.
The 'c' key will open a menu that allows you to choose between the various test modes. Any errors in your memory will be listed at the bottom of the screen.